About Carfinder Fred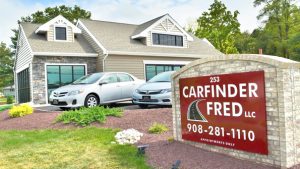 Before telling you who we are, I'll tell you what we're not. We are not your typical dealership and I am not a traditional salesperson. We are not here to sell you a car – but instead to help you buy one. We do so with complete integrity, full price disclosure, and a business model that is second to none.
Our lot is comprised of high quality, reliable cars hand-picked by Fred. We can access a variety of makes and models.
This is the only way I will ever buy a car again! Fred's approach is no-pressure, no games, etc. No trips back and forth with the sales manager, no having to meet with the pushy finance guy. Fred got me a great price on a great car, less than a year old.

We were so pleased with the first car we purchased from Fred four years ago we are now excitedly  preparing to make our purchase! It's not just what they do, it's who they are. Kind, helpful, considerate, informative and respectful!

I never knew buying a car could be fun! Your service is impeccable. The only way to go. Fred and Angelica are wonderful. Love my Sonata. You make your customers feel like family. You are amazing, such a wonderful experience. I will never go to a car dealership again. The price of the car was great! At 9:30 am you bid on the car and won. By afternoon, you had the car, detailed it, amazing! I will recommend you to everyone. Thank you for everything! Now you're stuck with 3 AM Deb forever!

I just bought my truck from Car Finder Fred yesterday. I can't stress enough what a great experience it was dealing with Fred and Angelica. They were refreshingly straightforward and honest. No games, 100% transparency. He even got me a better interest rate than at the car dealerships I visited and an exceptional deal on the truck. I will never go back to a traditional car dealership again. There's a reason he has all the 5 Star reviews. Thank you!

Fred has found cars for my friends and family for years, so when I was due for a new car myself, I went straight to him. He's honest, trustworthy and will only sell you the best of the best. He helped me find the perfect car, and for that I am so grateful!

I have purchased many vehicles over the years and typically it's a unpleasant experience at best.I am so happy I was introduced to Carfinder Fred. Fred really cared, paid attention to all of our wants and needs and found the perfect car for us. We had it in a few days and it was everything Fred said it would be.I recommend anyone looking for a car to give Fred a try. There is no pressure and you will get more attention than you've had in the past. Buy what you want,

not what a dealer wants to sell you.

Thank you Fred, we will see you again.

Bought my BMW from Fred. Best purchase ever. Saved me $20k off sticker for a 5 month old car with only 3k miles. Great guy, great service, great experience. Will definitely buy again.

Every car that I have owned for the past 10 + years have been through Mr. Car Finder Fred. This is a class A guy, selling class A cars in a now new class A facility. Tell your friends.

An intimate setting paired along with Fred's expertise really helped me locate, and identify what I wanted, for a great price. His transparency is unique and I have no doubts that my next purchase will be from him as well.